Camp Gregory
Veterans Retreat

A place for all current & ex–service personal, veterans & first responders from fire rescue, police and ambulance  & their families to camp, relax or just get away from it all.
Approximately 15 minutes' drive from Woodgate, lives a pristine place called Camp Gregory Veterans Retreat. A place for all serving, ex-service personal, veterans, first responders from Fire and Rescue, Ambulance, State Police services and their families to camp, relax and get away from it all. The facilities are free for all of the above and include camp sites for caravans, motorhomes, camper trailers and plain old tents. Amenities include flushing toilets, hot showers and fresh drinking water. Situated right on the Gregory River, you can enjoy some fishing and crabbing all year long. For those without camping gear we have dongas available with beds (all you need is linen). As Woodgate is a 15 minute drive this gives you the convenience of shops, fuel, ice and bottle shops, as well as one of the most beautiful beaches Queensland has to offer. We are constantly working on making Camp Gregory user friendly with our work committee and a string of volunteers. Local businesses and council have donated both time and materials which have helped in making Camp Gregory such a peaceful place to stop and bring your family. All our workers, including the caretaker and committee members, are volunteers, so please show them the respect and courtesy they deserve.
Camp Gregory is free to stay for all the above (Maximum 2 weeks)
About
Camp Gregory was opened as a veterans retreat in 2010. It started as a camp where Veterans from the 1968 National Service Intake (including friends and family) would gather through 'word of mouth'.
Throughout the year Camp Gregory hosts a number of low key services on days of significance.
These days are a fantastic opportunity for veterans (both young & old) & their families to come together, relax and enjoy the peaceful serenity Camp Gregory has on offer.
BBQ is provided on these days
ANZAC Day – 25 APRIL
Veterans Day – 18 August
Remembrance Day – 11 November
Facilities
Camp Kitchen –with all cooking equipment & kitchen utensils available for use
Caravan and Motor Home Access – Please note –dirt road into Camp.
Accommodation – Dongas, single & double rooms available –you must bring your individual bedding
Amenities – Separate Male & Female toilet blocks with hot Showers and flushable toilets
Open Fires allowed – subject to fire bans
Plenty of fishing & crabbing – accessible by small fishing boat i.e. tinny, bigger boats can be launched at Woodgate.
We are a dog friendly Venue
Become a Member
Camp Gregory Veterans Retreat Inc has a membership of over 180, which is growing every week, however 100's more have visited to the Camp.
Membership is $10 for 5 years, you can join upon arrival to Camp Gregory.
Otherwise you can complete & return the membership application and direct deposit your $10 into our bank account.
Camp Gregory is located at 168 Darville Rd WOODGATE QLD 4660
DO NOT use google maps or a GPS device.
Look up the map online then follow the roads the 'old fashion way'. If you must use a GPS the closest you will get is intersection of Heidkes and Darville roads and then follow the signs.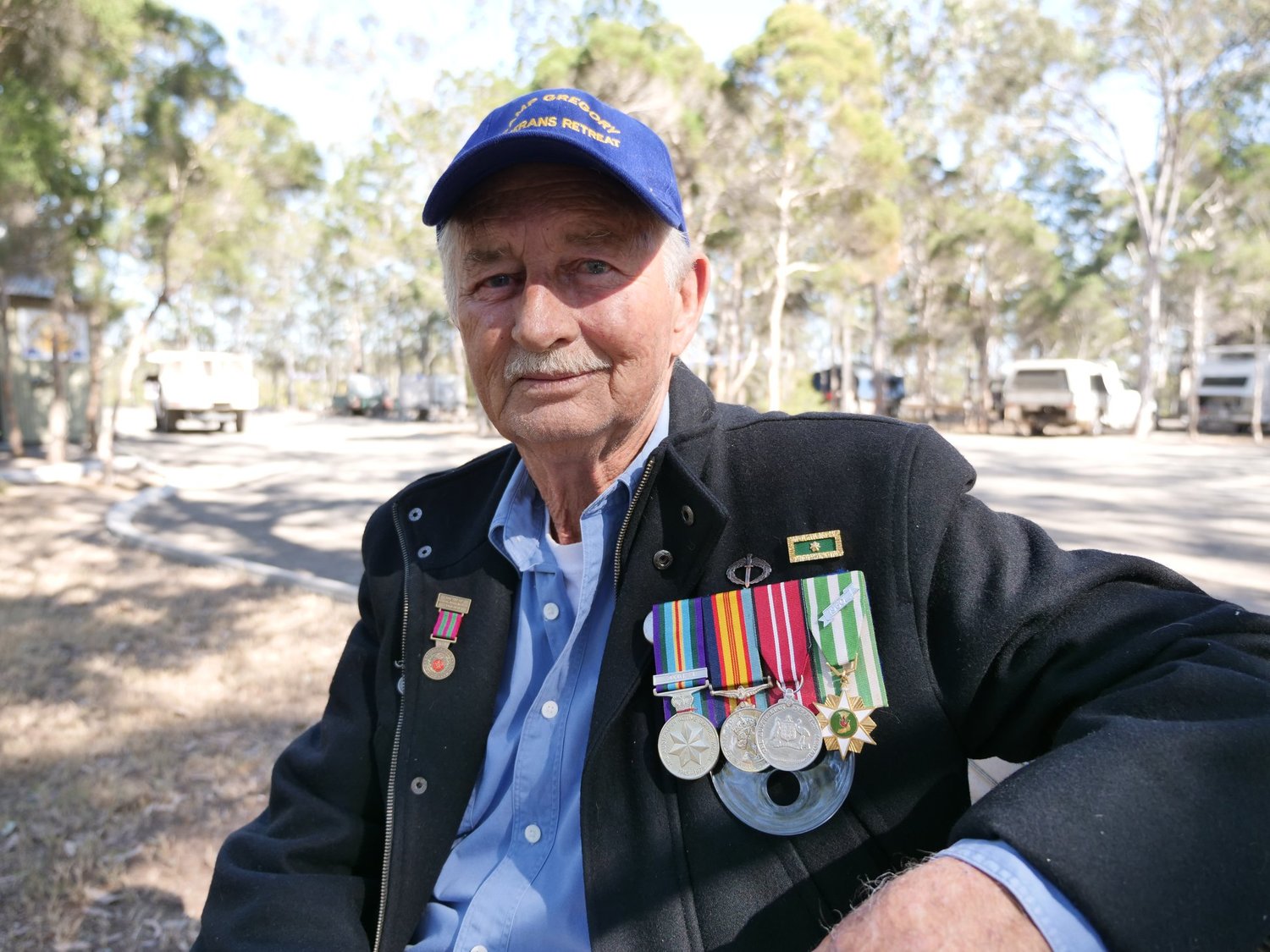 We now have a containers for cash account in Queensland for those who would like to donate their bottles and cans. Our account number is C10164037.
One of the Australian Army's most significant battles of the Vietnam War was fought at the Fire Support Patrol Bases (FSPB or FSB) of Coral and Balmoral. The battle is remembered for the courage of Australian soldiers who fought desperately as hundreds of troops from...
Over 1,800 Australian Defence personnel were deployed in the Gulf War from August 1990 to September 1991. The force comprised units from the Army, Navy and RAAF. At Camp Gregory Veterans Day 2018 Trudie Leigo from ABC Wide Bay had a chance to catch up with...